Westone/Gennum In-Ear Sound Design SD1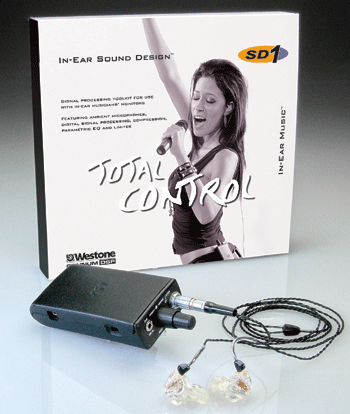 In ear monitors seem a great idea: have your very own personal mix with effects and as loud or as soft as you like and complete freedom to move about the stage without dependency on usually crappy PA stage wedges. Removing the wedges means overall lower stage volumes for better mix/sound to the audience. The other side of the coin is: because the monitors are inside your precious ears, your sound mixer better know you and his/her gig perfectly; a fast peak limiter to protect your hearing in case of an aural accident like super loud feedback is imperative; because the earphones must fit tightly, you may have trouble communicating with your band mates or worst yet, hearing the audience's response resulting in a kind of unknowing but apparent detachment. Lastly, everyone hears differently so contouring the frequency response and dynamics of your individual mix may not be possible with most current systems.
Westone and Gennum Corporation have jointly developed ambient monitoring and sound contouring system called the In-Ear Sound Design SD1. This belt-worn system connects to any existing wireless or wired belt-pack, or maybe used as a standalone wired belt-pack to solve the aforementioned problems.
The SD1 has ear level microphones attached to the ear buds to provide a spatially correct stereo image of your surroundings. This stereo audio is mixed in with the monitor sound feed on the unit. The SD1 provides the tools to fully customize the response characteristics of both the monitor signal and the microphones independently. A six-band, parametric equalizer, multi-band compressor, and "brick-wall" limiter let you personalize your monitor mix by controlling the frequency response, dynamics, and the amount of ambient sound.
These personalized settings are stored in any of four memory locations in the SD1 allowing quick, onstage access during live performance. Sound Design Audio Manager (SDAM) software and a laptop computer are used to program/store settings. The settings load or transfer from the laptop into the SD1 via a mini USB cable.
In-Ear Sound Design sells for $1,499 and includes the SD1 belt pack, cable with built in microphones, SDAM software, USB cable and 3.5mm jumper cable. Much more about this exciting technology at: www.inearsounddesign.com
---
Web Page design is copyright © 2006 by Barry Rudolph