Yamaha APX Acoustic-Electric Guitar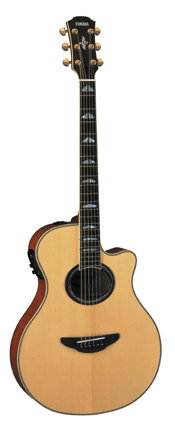 Their shallow depth bodies are perfect for women or smaller players and the updated styling is a winner. The APX line also includes left-handed and twelve-string models.
The APX Series includes the APX500 that uses a one-way bridge mounted piezo system while the APX700 and the APX900 guitars use the Acoustic Resonance Transducer (A.R.T.) pickup system to capture a natural acoustic tone while virtually eliminating feedback. Sound quality and feedback have always been the twin demons of all acoustic guitar players in amplified, live situations.
Unlike many piezo acoustic-electrics that use ribbon transducers to produce a thin and synthetic sound--and sometimes the dreaded "piezo quack", the new pickup system on the APX 700 and the APX900 features multiple (The APX 700 has two and the APX 900 has four--an extra one for treble and one for bass), proprietary contact microphones mounted on the underside of the sound board to capture the guitar's true acoustic resonance. A new preamp with a built-in tuner and frequency adjustable controls keep you in tune and reduce the possibility of feedback right at the source.
The APX line includes models priced from $609 for the APX500 to $1,349.99 for the APX900. For more information on the new APX line, call Yamaha Corporation of America, Pro Audio & Combo Division, Guitar Products at 714-522-9011 or visit www.yamaha.com.
---
Web Page design is copyright © 2006 by Barry Rudolph