Yamaha RGX A2 Electric Guitar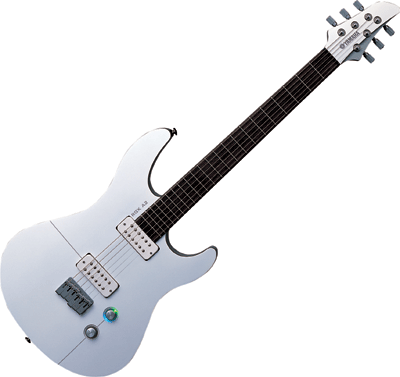 The futuristic-looking RGX A2 electric guitar has a body that uses lightweight 'core' wood sandwiched between layers of alder hardwood. Called Alternative Internal Resonance construction, there are also interior sound tubes that vibrate all the layers of wood simultaneously. These vibrations are channeled directly to the Yamaha's Alnico soap bar pickups. So while weighing only 5.5 pounds, the guitar provides at least as much sustain and tone of a much heavier and denser solid wood guitar.
Other unusual features include: LED backlit, cylindrical die-cast master volume and pickup selector knobs (blue for the bridge, green for the neck), cylindrical tuners and all-aluminum hardware. Besides the utility of these features for dark or low-lit stages, they look marvelous.
The RGX finishes with a Yamaha original fixed bridge with recessed adjustment screws, White and Aircraft Gray finish, bolt-on maple neck and a 22-fret rosewood fingerboard.
The Yamaha RGX A2 is sells for $799 MSRP and for more information, contact Yamaha Corporation of America, Pro Audio & Combo Division at 714-522-9011. www.yamaha.com
---
Web Page design is copyright © 2006 by Barry Rudolph