Yamaha Tyros2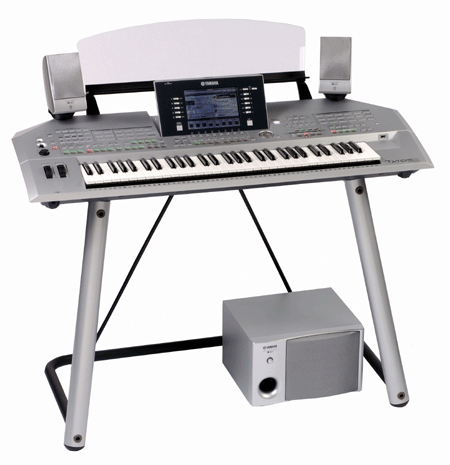 The Yamaha Tyros is styled as an arranger keyboard that uses the power of incredible sounding instruments, innovative design, functional control surfaces and unparalleled technology to help you make and record the music you love.
Using up to 40 voices, MegaVoice and Super Articulation technologies bring an authenticity to the melodies that you create and play. Tyros2 comes with a 61-key professional keyboard with a newly designed action and 4 MB of (.wav or .aiff files) memory. Also available is up to 1 GB of sample/playback capability and the ability to capture performances with optional audio rendering hard disk recording.
Additional improvements now enable Tyros2 to function not only as a stand-alone instrument but also as part of a computer-based music production system with MIDI ports and USB jacks for connection to peripheral storage devices. The central onboard VGA display screen can be "mirrored" to an external computer monitor when using the keyboard with your computer. Yamaha's broadband Internet Direct Connection feature allows song data and other content to be downloaded directly from the Internet. You'll never be without new songs!
Audio options include headphones or the TRSMS02 speaker system with self-powered 40-watt subwoofer and two 20-watt satellite speakers that mount directly on the keyboard. The speaker system sells for $299.99 and the optional L7S stand at $249.
Tyros2 is currently shipping at an MSRP of $4,095. For more information on Tyros2, visit www.yamaha.com.
---
Web Page design is copyright © 2006 by Barry Rudolph