Zildjian K Custom Hybrid Cymbals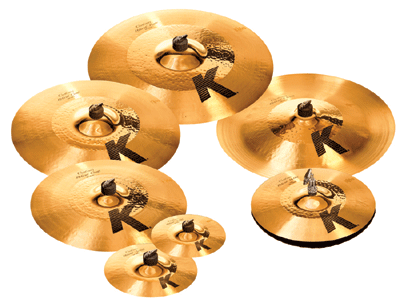 One of Japan's top drummers, Akira Jimbo has collaborated on a new set of exciting K Custom Hybrid cymbals. Available in ride, crash, hi-hats, China and splash models, the K Custom Hybrid Series combines the unlathed, brilliant finish of the K Custom Ride on the inner half with the traditionally finished K Zildjian lathing on the outer half of the cymbal. Besides having a cool new look, this results in two different sounds and dynamics depending exactly where the cymbal is played. Additionally, the unlathed section helps to control the wash and sustain--an added plus for recording and live gigs.
The 20-inch ride amazingly combines the defined stick attack and strong bell sound of the K Custom Ride with the sound of a thin, lathed crash. The 17 and 19-inch crashes, 9 and 11-inch splashes and 19-inch China also feature a thinner design, but project like heavier cymbals due to the unlathed bell area.
The 13 ¼-inch hi-hats, like all the Hybrids use Hybrid Hammering where reversed Mastersound grooves are caused by hammering into the bottom of the cymbal from the opposite side. This results in increased surface area contact between the top and bottom cymbals, a warmer chick and wash than normal Mastersound hammering.
The K Customs Hybrids range in price from $436 for crashes and splashes to $516 for a pair of 13 1/4-inch hi-hats. For much more, contact Zildjian at 781-871-2200 and also visit www.zildjian.com
---
Web Page design is copyright © 2006 by Barry Rudolph