AES-Nashville Reference/Test CD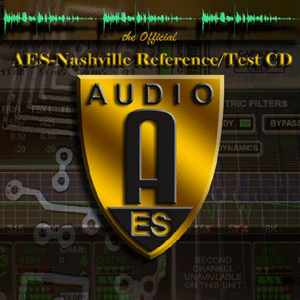 The Nashville Section of the Audio Engineering Society and contributing recording engineer/producer professionals have produced a new reference test CD that's only $12 and available online. This reference disc is a potpourri of precision signals recorded over 71 tracks on an enhanced CD. Test signals ranging from level calibration tones, noise signals, third octave tones, polarity and digital meter calibration pulses, band passed noise and swept sine waves are all included.
Additional tracks include dry recorded kick and snare drums, acoustic guitar and piano along with spoken word and acappella male and female vocals. These tracks are considered good sources to compare in quality to your own recordings or the effect of outboard processors and reverb units.
The all-important booklet explains each CD track's content and how to apply and use it. There are instructions for setup and alignment of equipment such as A/D and D/A converters as well as analog tape decks. Important studio procedures for measuring your monitor speaker system's frequency response, left and right channel level matching, phase coherency, and dynamic range are given.
The enhanced CD has a data area that has BPM charts; Excel based calculators and loads of bonus material. You'll find the NARAS Master Recording Delivery Recommendations document, a timecode calculator, volt/dB charts, tempo conversions, analog tape deck alignment procedure, and even a link to my pages of Studio Equipment Recall Sheets at www.barryrudolph.com/pages/recalldirectory.html.
Student AES sections are encouraged to contact AES Nashville at studentCDsales@aesnashville.org to inquire about the $10 student rate.
---
Web Page design is copyright © 2007 by Barry Rudolph