Alesis DM5 Pro Electronic Drum Kit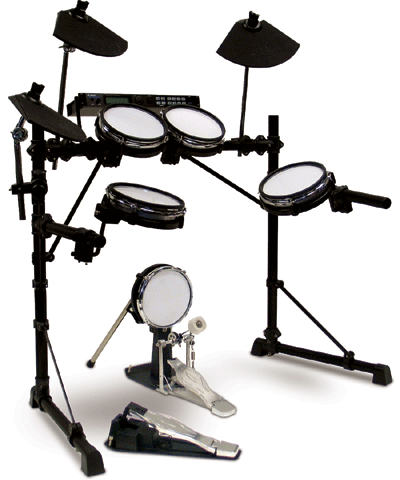 It's a good time to consider the DM5 Pro kit from Alesis because it comes with the updated sound module, real drumheads, and sturdy yet portable hardware. The five-piece DM5 Pro Kit features five drum pads: snare, kick, three toms, plus a heavy-duty hi-hat controller, and responsive natural motion crash and ride 'cymbals.' The DM5 Pro Kit also ships with a programmable hi-hat foot pedal and all necessary interconnect cables.
The new DM5 sound module has 540 sounds and 21 pre-programmed drum/percussion sets with percussive timbres ranging from sampled acoustic instruments to the most techno of electronic sounds. All instruments and percussive effects were recorded in true stereo at a 48kHz sample rate.
A key feature is called Dynamic Articulation™ where the module's sounds respond and exactly track the force with which the pads are struck. So the overall effect is realism--with the player's performance, with all his/her feel and nuance, embodied in each drum track. The DM5 also provides an ultra-fast trigger-to-MIDI conversion system with twelve trigger inputs and five programmable parameters for each trigger if you like to program drum tracks the fun way--by actually playing them! What a concept! The Random Sample feature will vary the sound slightly of each drum for even more realism. The DM5 Pro Kit sells for $799 MSRP. Check: www.alesis.com
---
Web Page design is copyright © 2007 by Barry Rudolph