All About Series From Hal Leonard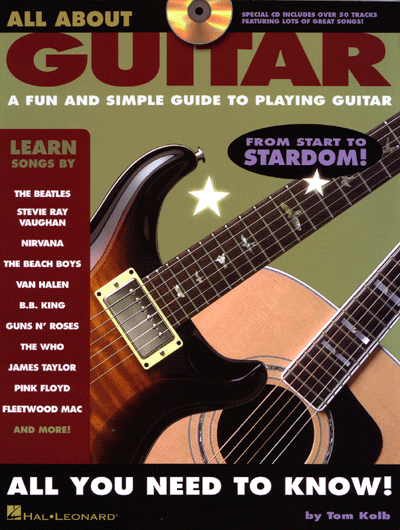 This new series teaches you to play a musical instrument in a kind of "all at once" method. Beginners may not get everything right away but these books pack in so much information, that I see them as a good reference source to accompany a student's lessons. I received All About Guitar, All About Bass, All About Piano, and All About Drums. Each nearly 200-page book comes with an audio CD that is referred to often in the short one or two page lessons. There are song transcriptions of at least twelve pop songs included.
In All About Guitar the seven sections, with a total of 26 chapters or lessons, start from the beginning with some musician jokes and progresses through preparation and correct posture while playing and then on to basic notation, chords and melodies. There are full song transcriptions of popular hit songs to illustrate new playing concepts and techniques. For example when power chords are taught the author, Tom Kolb, sites records like Black Sabbath's "Iron Man" as an example of an E-based power chord.
In All About Bass, author Chad Johnson take the beginner through 25 chapters starting basic again with sections on the instrument, proper playing posture, tuning, scales, and the role of the bass guitar in the band. Later on, notation, 'lingo', and styles are discussed and demonstrated. There is quite a bit about style since the bass is a foundational instrument that supports and sets up immediately the whole sound of the band. As a payoff, full song transcriptions of popular songs are provided and at the end of the book there are short bios of the ten bass players whom changed the world of bass.
Both All About Piano and All About Drums follow the same format with each book focusing on pop songs that feature these instruments. In the All About Piano, songs by Elton John, the Beatles and Alicia Keys are used. The All About Drums book utilizes songs by Van Halen, Def Leppard and The Police.
The All About Series are good for beginner to intermediate players who want to brush up or reconfirm their knowledge and notation reading skills. Each book/CD sells for $19.95. Hal Leonard publications are available through Music Dispatch at www.musicdispatch.com or at: 800-637-2852.
---
Web Page design is copyright © 2007 by Barry Rudolph