Aphex Systems Model 454 HeadPod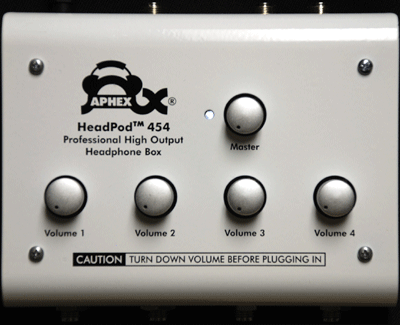 The Model 454 HeadPod™ is a studio headphone box with four stereo headphone 'stations' each with its own power amplifier and level control. This means that any odd collection of different headphones can be used at any volume level without interaction or problems. Specifically designed to interface any audio system without regard to existing operating audio level or impedance makes this unit perfect for the home studio setup. Some of the new semi-pro mixers and DAW interface boxes have headphone systems barely able to drive high impedance phones--let alone if you "Y" cord two or more sets together to do overdubs. HeadPod came into existence for this reason and makes the perfect addition with its easy hook up.
The unit accepts balanced and unbalanced lines using a pair of 1/4-inch balanced left and right channel jack inputs and a single, 1/4-inch unbalanced TRS input. A small toggle switch selects between balanced and unbalanced lines--effectively becoming a source switch. I used this feature to switch between my local loudspeaker monitor mix and a 'metronome click heavy' mix I made inside of Pro Tools for my drummer to play to.
HeadPod is just five-inches square and constructed in a low profile, heavy steel box. It's powered by an included wall-wart power supply and works with headphones with an impedance range between 8-Ohms and 1kOhms. 55-ohm impedance phones can be easily driven to 1.5 watts for a louder than loud sound! Distortion (THD+N, 1kHz) is specified at less than .001% when driving a 25-ohm load with 100mW. The unit sells for $249.95 and for more information, contact Aphex Systems Inc. at 818-767-2929. www.aphex.com
---
Web Page design is copyright © 2007 by Barry Rudolph