Black Series from Audient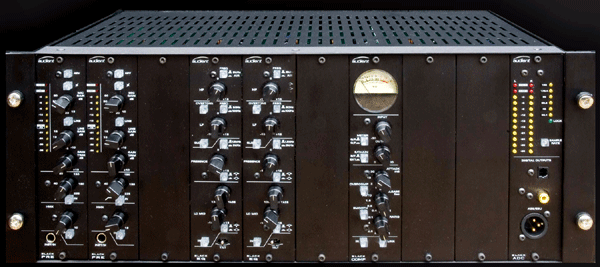 Audient's all-newly designed Black Series starts with the pristine, uncolored audio path normally associated with Audient products but then lets you "sculpt" the finished tonal quality by adding any combination of custom-designed processor modules. The modules use all-discrete, transformer-coupled circuitry so you can freely 'mix and match' them for a unique-sounding signal chain that'll work great in any application from the recording studio to live sound work.
You would first get the BR-10 rack unit ($950) to hold up to ten Black modules all powered by an external power supply. The Audient mic pre-amp called the Black Pre module ($700) runs Class-A with a transformer balanced mic input plus an unbalanced instrument 1/4-inch input DI jack. The Black Pre has HMX or Harmonic Sculpting, variable high pass filtering and a twelve-segment VU display.
Next in your chain might be the Black EQ four-band equalizer ($700). It has enhanced slope HF/LF shelving and a unique Hi-Mid Band presence/absence control. There are also controls called: Overtone or LF band specific harmonic enhancement; Glo aka LF band specific dynamic equalization; and Tilt which shifts overall tonal balance around 1kHz.
For compression, add a Black Comp ($700), a discrete Class-A circuitry opto compressor with transformer-balanced input; fully adjustable ratio, attack and release controls plus auto release functionality; and overcomp, a FET-based compression circuit for over-compression effects. For direct recording into you DAW, try the Black ADC ($700) analog-to-digital converter module for sample accurate conversion.
If this system intrigues you like it does me, call Audient's US office at 909-948-0997 or visit www.audient.com.
---
Web Page design is copyright © 2007 by Barry Rudolph