Auralex Acoustics SonoSuede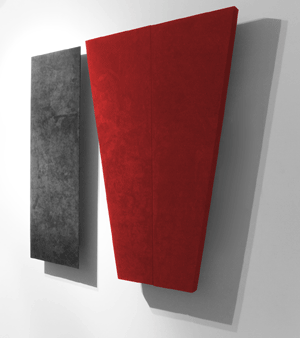 If you're like me a recording studio has to look aesthetically pleasing enough to wanna work in it for the long hours it takes to produce music worth showing to the public. SonoSuede are Auralex's super-posh looking sound panels for reducing first order room reflections. A synthetic suede fabric covers these panels and provides the acoustical transparency and their visual allure. These complete do-it-yourself room treatment systems are designed for professional and home recording studios, as well as home theater applications.
The SonoSuede System comes as both HT and Pro models. The Pro System features four 16" X 48" X 2" thick back-beveled panels used for corner trapping, and eight 16" X 48" X 1" rectangular-shaped back-beveled panels. This makes a total of 64 square feet. The SonoSuede HT System consists of four 16" X 48" X 2" thick back-beveled panels and eight trapezoidal-shaped square-edge panels 16" X 48" X 1", for a total of 54 square feet.
If you're ready to 'pimp' your studio or music room, scratch together $1,399 MSRP for either the HT or Pro SonoSuede Systems. They come in the stock color combinations: black/red and black/tan but other combinations are available as custom orders to match your existing room decor. Visit the Auralex web page at www.auralex.com or 800.95WEDGE.
---
Web Page design is copyright © 2007 by Barry Rudolph