Avantone CV-12 Large Diaphragm Condenser Microphone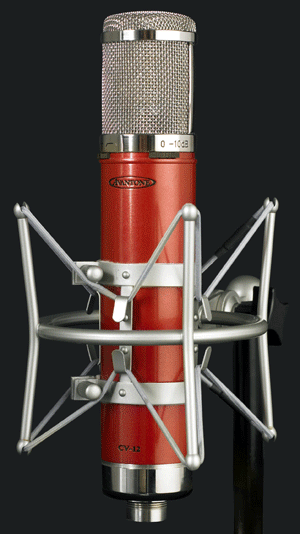 Avant Electronics of Upland, CA has a new line of studio tube condenser microphones whose feature set and level of professional build-quality belie their lower cost. I received the CV-12--a beautiful-looking mic with an all brass body finished in a Cabernet (deep red) color and polished nickel-plated trim. The mic uses dual 32mm, gold-sputtered capsules for up to nine different polar patterns set remotely at the included power supply. You can switch the mic between cardioid, omnidirectional, figure of eight or any of six 'in-between' patterns. This is an excellent (usually optional) feature for recording vocals, string sections, choirs or assemblies of both musicians and singers.
The 110/220volt PS-12 power supply connects by way of a 20-foot, seven pin XLR cable. Everything about this mic is first class from the padded wooden carrying case for the mic itself to the excellent Avantone custom Retro shock mount and the well-padded aluminum travel case that holds the entire kit.
One clever and thoughtful addition is the set of three different tubes. Avant knows microphone users at the pro level are interested in the different "characters" the same microphone can take on simply by changing the tube inside. To that end, a Russian-made 6072A and both an ECC81 and ECC83 made in the Slovak Republic are included. Each tube will cause a distinctly different tonality and personality by changing the gain before the output transformer.
In the studio I found the CV-12 wonderfully warm and fat sounding. First, I used it for backing vocals with it set to a very wide (almost omni) pattern. My singing group always sounded balanced--like they did out in the studio. This is not one of those new mics that is just brighter than other mics. With the 6072 tube inserted, it had only a very slight presence increase that didn't seem to heighten my singers' shrill moments. Next were lead vocals using a tighter cardioid pattern--again a solid winner on both my female and male singers. I did have to add +2dB of upper mid-range "cut" just to compete with my noisy, percussive track.
Other features include a -10dB pad and 80Hz LF roll-off filter switch and a five-year warranty. The CV-12 sells for $399 MSRP and will work great on vocals, drum overheads, orchestral recordings, and acoustic guitars. Check out www.avantelectronics.com or call 909-931-9061.
---
Web Page design is copyright © 2007 by Barry Rudolph