BBE Sound DI-50x Active Direct Box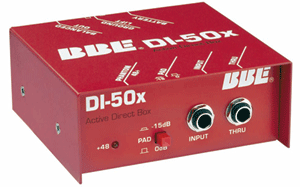 The DI-50x active direct box uses an amplifier circuit to match any electric bass or guitar's high impedance output signal to the low impedance world of live sound and recording mixing consoles. Active DI boxes are especially good for low output passive pickups or piezoelectric acoustic guitar pickups. The DI-50x is powered either by an internal 9-volt battery or from the 48-volt phantom power available at most mixing consoles. The unit is built like a brick; it has recessed switches and a non-slip bottom plate making it solid and reliable for the studio or on the road.
Like any fine piece of professional electronic gear, the highest sonic quality is maintained by using a thick, military-grade circuit board with wide circuit board traces and 1% metal-film resistors along with other high tolerance, precision components. Other features include: -15dB attenuator pad, ground lift, electronically-balanced XLR output, ¼-inch TRS input, and another ¼-inch through-jack that interconnects the guitar amp.
The DI-50x sells for $149 MSRP and comes with a five-year warranty. For much more information, check www.bbesound.com
---
Web Page design is copyright © 2007 by Barry Rudolph