D'Addario T2 Titanium Classical Treble Strings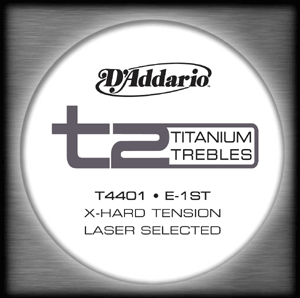 D'Addario's search for a material that responds with a similar touch as nylon classical guitar strings yet with a brighter, more projecting tone has ended with the development of D'Addario T2 Titanium Classical Guitar Treble Strings. These new strings may be freely substituted for your nylon strings--they'll feel pretty much the same. They have the same diameter and intonation characteristics.
The dense monofilament material has an attractive, translucent purple hue with a polished, smooth feel like nylon, but with a slightly brighter tone and therefore increased projection.
T2s are available in single string packages in three tensions (gauges) at $1.30 to $1.50 each. The new strings are designed for the classical player, but will appeal greatly to flamenco, folk and other "non-classical" musicians, as well. Of special note is the 3rd/G string: it's designed to create a balanced transition between the bass and treble strings.
For more information on D'Addario T2 Titanium Classical Treble Strings, visit www.daddario.com.
---
Web Page design is copyright © 2007 by Barry Rudolph