DW Release New Generation of DVDs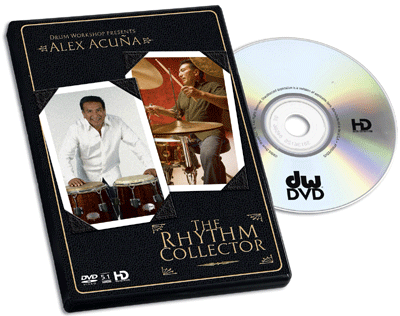 DW's new collection of DVD releases fully utilizes the DVD specification with multi-camera shoots and 5.1 surround sound. Certainly on a proper home theatre, these DVDs are exciting and a lot of fun to watch and, you may just learn a trick or two.
I received three: Alex Acuna's "The Rhythm Collector;" Marco Minnemann's "The Marco Show" and wildman Jane's Addiction drummer Stephen Perkins with "Stephen Perkins: A Drummer's Life."
Alex Acuna, fresh from a jazz project called Canela featuring Patrice Rushen, Abraham Laboriel and Justo Almario, takes us on a personal and biographical journey starting in his homeland Peru and then to the studios and stages of world. This cinematically inspired DVD reveals some of Alex's most cherished rhythms as he demonstrates their traditional origins and how they apply to the drum set and popular music.
Marco Minnemann's DVD is a performance-driven title that includes a Buddy Rich tribute performance by the Marco Minnemann big band and several of Marco's brand new compositions performed by the trio of Mike Keneally, Bryan Beller and Marco himself. This is a wonderful way to learn about Marco's extreme independence and masterful technique. Besides the crisp multi-angle, high-definition camera production, viewers can select only the fixed 'foot cam' or an overhead angle for more detailed viewing.
"Stephen Perkins: A Drummer's Life" captures Perkins performing some the popular hits from Jane's Addiction and Porno for Pyros. Complete with sweeping multi-camera coverage and surround sound mixed from the perspective of the drummer, the DVD also features guest musicians that include guitarists Wes Borland (Limp Bizkit) and Nels Cline, and bassists Tony Franklin (The Firm) and Mike Watt. As you would expect, "A Drummer's Life" is also about Perkin's current side projects and follows him on the road as he talks about his drumming lifestyle and his unique percussive approach to drumset. Bonus features include a photo gallery, behind the scenes footage and camera angle selector.
All these DVDs are 90 to 120 minutes long, sell for $39.95MSRP and for more info, check www.dwdrums.com.
---
Web Page design is copyright © 2007 by Barry Rudolph