eMedia Essential DVD Series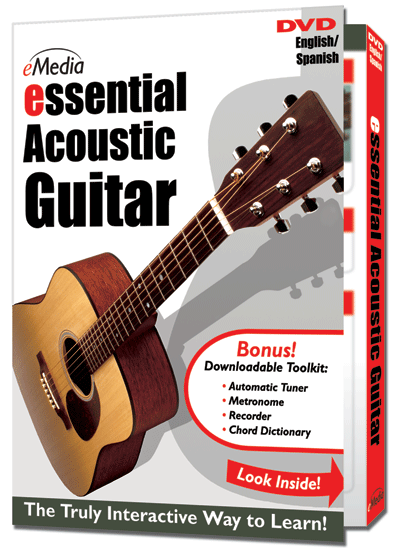 The new eMedia Essential DVD line are interactive instructional DVDs that starts with three courses: eMedia Essential Acoustic Guitar, eMedia Essential Rock Guitar and eMedia Essential Bass Guitar. Prior to wide spread use of DVD technology, eMedia has taught more than a million people to make music using their CD-ROM products and a home PC. Now these same award-winning interactive methods can be experienced on your television or portable DVD player.
Each Essential DVD title has dozens of fully interactive lessons with animated fretboards for right and left-handed players all coupled with eMedia's exclusive Tri-View video for three different viewing angles. This is a song-based curriculum in English or Spanish with interactive chord charts and music tracks. Connecting online adds metronome, personal digital recorder, chord dictionary, and digital automatic tuner extras.
eMedia Essential Acoustic Guitar has 46 easy-to-follow lessons taught by professional guitar instructor Kevin Garry, Ph.D. The lessons go from the basics, such as stringing and tuning your guitar to the more advanced--playing chords and strumming techniques.
Guitar Institute of Technology (GIT) graduate and rock guitar instructor Charles McCrone takes you through eMedia Essential Rock Guitar's 45 lessons again by starting at the basics and progressing to playing power chords and lead licks. Finally, eMedia Essential Bass Guitar's 33 lessons take you from stringing and tuning your bass to major scales and creating a bass line.
This line of eMedia Essential DVDs sell for $19.95 MSRP each. Visit: www.emediamusic.com.
---
Web Page design is copyright © 2007 by Barry Rudolph