Eventide Stomp Boxes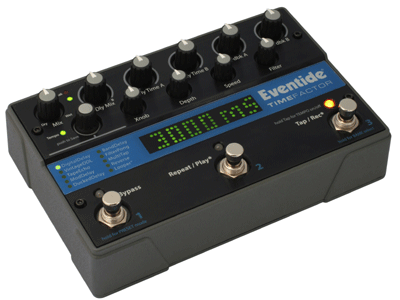 Eventide spreads the love to guitar players with two new stompboxes, TimeFactor Twin Delay (pictured) and ModFactor Modulation Effects. Both of these units each feature ten stalwart effects that were, for the most part, invented by Eventide starting over 30 years ago. Furthermore, you may design and hold up to 27 presets in the unit with an unlimited number accessible through the on-board MIDI interface.
Besides MIDI effect select and control, there is an expression pedal input jack for Wet/Dry mixing or adjusting other parameters "on the fly" and both instrument and line level input and output jacks for integrating the units into your guitar rig or studio setup.
These units have rugged steel chassis with heavy-duty switches and are built to take it whether they go on the floor or mount on your pedal board. Immediately visible are the large LED displays that show the patch names and the USB port for downloading future upgrades.
The ten effects that come with TimeFactor are: Digital Delay, Vintage DDL, Tape Echo, Modulated Delay, Ducked Delay, Band Delay, Filter Pong, MultiTap Delay, Reverse Delay, and Looper. ModFactor has: Phaser, Flanger, Chorus, Rotary, Tremolo Pan, Undulator (you must hear this one!), Vibrato, Q-Wah, ModFilter, and Ring Mod. Both TimeFactor and ModFactor sell for $499 each and for much more go to: www.eventidestompboxes.com
---
Web Page design is copyright © 2007 by Barry Rudolph