Fab Four FAQ from Hal Leonard


Read Barry's Review Of Fab Four FAQ 2.0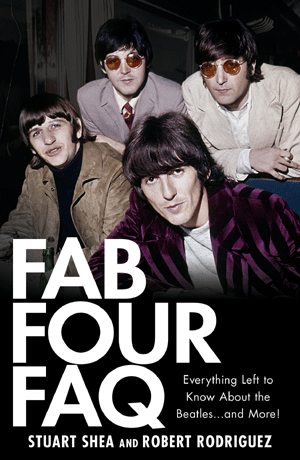 As a self-proclaimed amateur Beatles trivia expert, I have to say that authors Stuart Shea and Robert Rodriguez get the grand prize for packing in more obscure and arcane information than any of the dozen books I've read on those mad mop-tops from Liverpool--combined.
In a mostly non-linear sequence of 50 short chapters, "Fab Four FAQ--Everything Left To Know About The Beatles...And More" is aptly-named and includes over 200 photos mostly not seen before by the public. There are all the famous stories retold from a more opinionated and speculative point of view than Bob Spitz' documentarian classic "The Beatles".
Fab Four FAQ mostly focuses on the songs as recorded by the Beatles as well as other artists they helped out at the time. Meticulous dated in a timeline, the mood, the "scene" and current world events frame each song story--you get a real feeling of the circumstances that greatly influenced the Beatles's song writing and record production. As a recording engineer, I like that the authors didn't hesitate to recall the new recording technology or new music instruments made available to the Beatles and what songs used them--it seems like the right gear was 'invented' exactly when they needed to use it.
I especially liked the short stories about all the wacky and wonderful characters that came in and out of the Beatle's lives. I also found fascinating the author's choices for ten lists: the ten acts knocked from #1 chart position by the Beatles; ten notable photo sessions; ten Beatle instruments; ten mistakes that slipped on to vinyl; ten recordings that switch musical roles; the ten immortal Beatles performances; ten Beatles moldy oldies; ten records that influenced the Beatles; ten Beatles singles that never were; ten odd covers of Beatle songs; ten songs about the Beatles; ten acts that opened for the Beatles; and ten reasons why Paul must have been dead! With a foreword by Chris Hillman of the legendary Byrds and Flying Burrito Brothers and an afterword by Jackie Lomax. "Fab Four FAQ--Everything Left To Know About The Beatles...And More" is a fun and fast read and has become my first "go-to" reference for settling Beatle trivia arguments. Hal Leonard publications are available through Music Dispatch at www.musicdispatch.com or at: 800-637-2852).




Fab Four Faq: Everything Left to Know About the Beatles
---
Web Page design is copyright © 2007 by Barry Rudolph