PreSonus FaderPort Production Control Center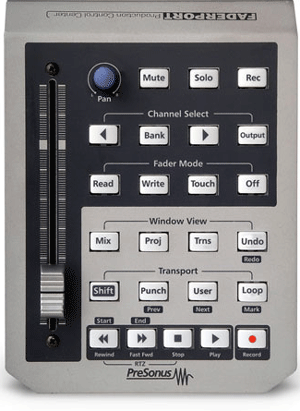 FaderPort is a 'must-have' control surface for any DAW-based studio. It communicates to the host program over a standard USB port and lets you mix 'inside the box' using familiar and good-feeling knobs, buttons and a single 100-mm motorized fader. It'll work perfectly with Cubase, Nuendo, Logic, Sonar, Digital Performer, Pro Tools (via HUI protocol) and many more on either PCs or MACs.
I like FaderPort because it increases my work quality and speed. I spend less time going over and over doing clean up work when doing vocal moves and other trickier, split-second mix changes. The touch-sensitive Alps fader feels and works just like the faders on high-end studio consoles and uses a dual-servo belt-drive motor design that is fast and smooth.
There are also buttons for quickly scrolling through and selecting banks of tracks--just click on another track in the group of eight and FaderPort's fader jumps to that track's level. By quickly (faster than a mouse) moving from track to track, FaderPort makes it easier to balance drum kit tracks, background vocals or multi-keyboard productions.
There are automated fader mode buttons such as Read, Write, Touch, and Off and you can solo any track and automate mutes. I've wished for a real Pan control knob every time I tried to affect a smooth pan by click-dragging a small onscreen knob using a mouse. Arrg! FaderPort's continuous Pan pot control makes my wish come true!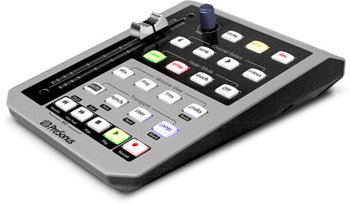 With extensive transport controls, quick keys for changing window views in your DAW program and a Trns button that calls up the transport window, a Shift key for another layer of controls for setting and recalling markers, the Undo/Redo button, FaderPort has covered all the onscreen needs of the modern DAW user.
With a rugged metal top plate and a footswitch jack for hands-free punch in/out, FaderPort sells for $229 MSRP. Check out: www.presonus.com/faderport.html.
---
Web Page design is copyright © 2007 by Barry Rudolph