Furman Sound SPB-8C Stereo Pedal Board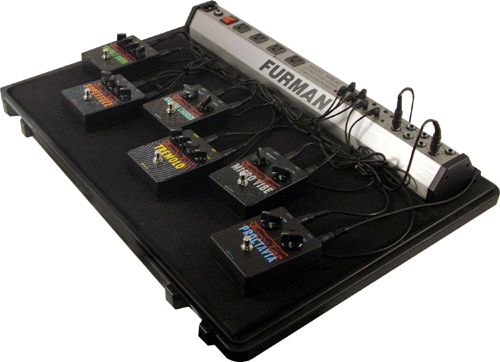 Keeping to Furman's reputation of providing valuable problem-solvers for stage and studio is the SPB-8C stereo effects pedal board. Like all Furman gear, the SPB-8C is built to last under abusive on-stage and studio conditions using a rugged yet light polycarbonate platform with a 13.75-in. by 26.75-in Velcro™ sheet coupled with an extruded aluminum chassis. This design and construction ensures secure, non-slip performance for all of your effects boxes and pedals.
The polyethylene hardshell case is large enough to accommodate the pedal board and all attached effects intact--allowing musician to keep all pedals and stompboxes patched and connected at all times. Additionally, since a fully loaded pedal board gets heavy, the SPB-8C is the first one to feature a pop up handle and wheels for quick and easy transportation.
On the electronics side, the stereo patch bay contains eight, 1/4-inch switching phone jacks connected in two stereo loops. This allows a single guitar or instrument input to feed multiple mono and stereo effects boxes, send and return from remote effects, and feed up two amplifiers simultaneously.
As you might have surmised about any unit coming from Furman, the SPB-8C has two levels of surge and short circuit protection and the company's standard level of RFI/EMI filtering for clean, noiseless signals. DC pedals are powered without hum by utilizing a high-quality toroidal transformer with each output individually isolated and rated at 120 mA and protected against shorts--if one pedal effect shorts out, the rest will continue to function.
Finally for studio and other AC wall outlet powered effects like a vintage Echoplex or modern Ultraharmonizer®, the board includes four AC outlets, spaced widely enough to accommodate bulky "wall wart" transformers. The SPB-8C sells for $430 MSRP and for more about it, check www.furmansound.com
---
Web Page design is copyright © 2007 by Barry Rudolph