Interactive Guitar from PlayPro™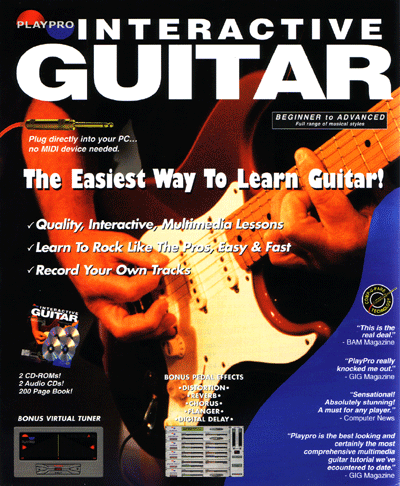 Dean Markley broadens their range of guitar-related product offerings as distributor of PlayPro's Interactive Bass, Interactive Guitar and Interactive Piano instructional software packages. For PCs only, all three versions feature two CD-ROMs and two music CDs and a thick, 200-page book.
I received PlayPro Interactive Guitar for review and, like the others, it makes the whole process fun and competitive by allowing you to play and record into your computer and compare your playing with the original examples. Connecting to your computer's sound card is by way the included 1/4-inch to mini-jack adapter. Once connected, you can play along with the lessons, get graded reports and helpful advice, and move on to 'jam' with the Strike Up The Band section of live and MIDI versions of songs. The MIDI versions are so you can practice in any key and tempo.
Guitar players will like the built-in PlayPro tuner and the virtual effects rack with distortion, reverb, chorus, flanger and digital delay processors. Also notable is the virtual fretboard where you can quickly learn and visualize the "shapes" or fingering of chords and intervals. Below that screen is the same music your playing notated on conventional music staves.
More visually oriented than other computer-based lessons I've seen, Interactive Guitar has over 55 high definition videos shot from the player's perspective. You'll see how your hands should look when playing correctly and naturally. This feature along is worth the price!
PlayPro's Interactive Guitar, Bass and Piano are $59.95 MSRP each and available though Dean Markley. For much more information, visit www.deanmarkley.com or www.playpro.com
---
Web Page design is copyright © 2007 by Barry Rudolph