Lynx Studio LT-FW FireWire for Aurora Converters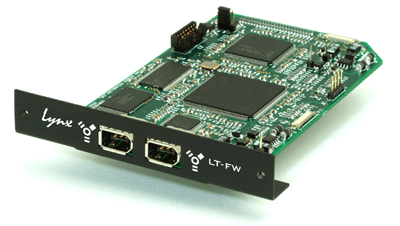 The tremendous success of the Lynx Studio Technology Aurora line has spawned the LT-FW Firewire LSlot module that allows Lynx' Aurora 8 and Aurora 16 AD/DA converters to be interfaced to any computer--laptop or desktop--Apple or PC.
LT-FW is a FireWire 400 interface that supports up to 32 channels of analog and digital input and output at sample rates up to 96 kHz. Even at 192 kHz (where you are limited by the speed of the Firewire 400 standard), the user can still access 16 channels of audio I/O. The LT-FW supports ASIO and WDM for Windows, CoreAudio for Mac OSX, and full WDM implementation allows multi-channel support of 5.1 and 7.1 surround sound.
When the LT-FW is inserted into an Aurora converter, it goes into remote mode with all relevant settings, sample rate selection, sync source, channel routing, latency, and buffer size controlled and monitored by the host computer. Although the LT-FW is an easy five-minute installation into existing Lynx converters, you can order it installed in your new Aurora AD/DA at the factory.
The LT-FW Firewire card sells for $595 MSRP and for much more about, check www.lynxstudio.com.
---
Web Page design is copyright © 2007 by Barry Rudolph