Celemony Melodyne Version 3.1 cre8/studio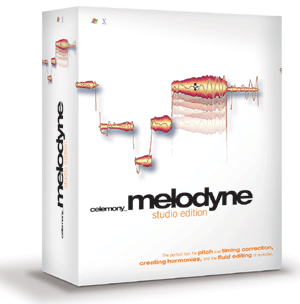 Melodyne is an amazing software product that allows for the correction of the pitch and timing of notes in vocal recordings. Celemony makes Melodyne in several versions now including a plug-in that runs within VST, AU, and RTAS-hosts under Windows XP and Mac OS X. Using the Melodyne plug-in, users edit and optimize single-voice instrument recordings as well as drum and percussion tracks with ease. The algorithm for single-voice material, with which Melodyne Uno users are already familiar with, now has a partner algorithm to ensure the natural sound quality of manipulated percussive material.
I received the newest version called Melodyne cre8/studio 3.1 and it runs native on MACS with Intel processors (MacTel) and is compatible with the new Melodyne Sound Library-- high-quality sounds derived from Ueberschall's Liquid Instruments. Melodyne 3.1 runs as a standalone application or as a ReWire client in VST, AU, and RTAS hosts.
Users of previous versions of the very popular Melodyne will relish all the new features--an answered "wish list" from users like: the simple management of used audio files, a switchable pitch grid, extended combi tools, a common reset function for all pitch editing, new keyboard commands, a percentage entry for time stretching and a command for restoration of the last saved version.
Melodyne 3.1 also exports tracks as notes whereby the MIDI Root Key is written automatically into the files created. This is ideal for quick use in the sampler without the additional trouble of mapping. In addition, 3.1 now reads automatically the tempo information contained in many files (e.g. Apple Loops and Acid files).
The update to Melodyne cre8/studio 3.1 is free for all registered customers and will be available for download from www.celemony.com. Melodyne cre8 for Windows XP and Mac OS X costs $369 MSRP and the large version, Melodyne studio, with the additional algorithm for polyphonic material costs $699. Much too much fascinating information to cover in this brief overview so find out more at www.celemony.com.
---
Web Page design is copyright © 2007 by Barry Rudolph