Read About Avid's Pro Tools 9!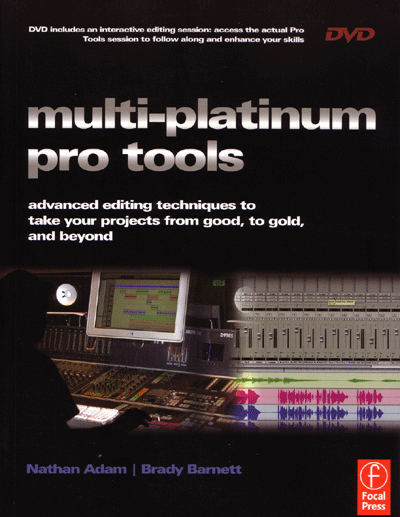 I have a lot of Pro Tools books but none relate the examples and lessons to real-world record production as well as Multi-Platinum Pro Tools by Nathan Adam and Brady Barnett. This book's main focus is on advanced editing and tuning processes that make Pro Tools the defacto standard for record making.

Complete with an included DVD-ROM, Multi-Platinum gets busy in the first two chapters defining terms and setting up PT preferences for fast-moving editing. Slip, Shuffle, Spot and Grid modes are fully covered and specific shortcuts are set up. Chapter 3 takes you through song creation from click track up through drum editing, using time compression/expansion tools, noise clean ups, and adjusting fades.

Chapter 4 covers everything about using Beat Detective on a live drum kit and then Chapter 5 goes on with all the minutiae of getting the bass player in time with the newly 'fixed' drummer. Chapters 6 and 7 cover both electric and acoustic guitars and the special issues they present like fret squeaks and amp noises. All along the way the authors stress the human element in the editing process--an important area that separates the natural-sounding records from the mechanical and sterile albums. Finally, Chapter 8 covers vocal tuning using the Antares Autotune plug-in. I found some good information here that has saved me a lot of extra work when doing vocal tuning.

With over 300 color screen shots, Multi-Platinum Pro Tools is a must-have and must-read book for beginners, students, and musicians--anyone with a basic knowledge of Pro Tools but who would like to step up and use the system like a pro.

Multi-Platinum Pro Tools sells for $49.95 MSRP and for more information, contact Focal Press at www.focalpress.com.




Multi-Platinum Pro Tools
---
Web Page design is copyright © 2007 by Barry Rudolph