Neutrik Right Angle 1/4 Silent Plug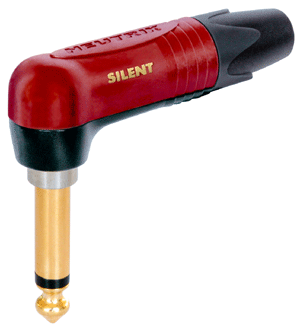 The Neutrik Right-Angle Silent Plug fixes a big, sometimes embarrassing issue when plugging and unplugging a cable from a guitar or keyboard connected to an amplifier or a recording studio's direct box. The loud pops and/or squeals associated with plugging/unplugging while under load can damage equipment and your hearing if the amp or studio monitors are cranked up.
The Silent Plug automatically "shorts out" the center tip of the plug to the sleeve (ground) before disconnection. This brilliantly simple method makes an "idiot-proof" cable--and without Silent Plug feeling like an idiot is what will happen if you forget and "hot swap" (unplug) without first powering down.
The Right-Angle Silent Plug is actually a re-introduction of its popular, Straight Silent Plug. The contoured design is more convenient for equipment mounted in confined spaces and it causes the cable to drape in the direction of gravity relieving the plug (and the electrical connection) of the weight and stress of the cable itself. The Right-Angle Silent Plug features a red coating, chuck-type cable retainer, gold-plated contacts, and an integrated, hermetically sealed reed switch said to have lifetime durability.
For more information, check www.neutrik.com. The Straight Silent Plug is called the NP2C-AU-Silent while the Right-Angle is called the NP2RX-AU-Silent.
---
Web Page design is copyright © 2007 by Barry Rudolph