PikCARD Guitar Picks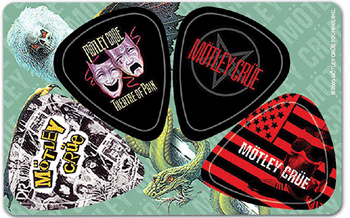 PikCARD guitar picks are an exceedingly good idea that works on many levels. The size of a standard credit card, a single PikCARD contains four medium guitar picks. With this emergency quartet of picks in your wallet, you'll never be stuck without a pick again. Each pick locks into the parent holder using tiny tabs so they can be reinserted back into the card after use--again and again. The picks are made out of durable Teslin that has a great no-slip feel--you'll probably lose one before it wears out.
As a promotional item for your studio, band or any music-related business, PikCARD seems the perfect give-away swag. This constant reminder travels with you always and invites instant comment when you're the only person at the party with not just one pick but up to four!
To get you going, PikCARD includes graphic designs services as part of any order. You can e-mail high resolution images files to them and their art department will create a few designs for your approval.
Prices depend on quantities ordered and range from $0.38 to $1.40 each for a four pick card with a full-color front and one color back. Mention you read about them here and receive a special MC price. PikCARD is at: 800-596-7074 Ext. 5 or 818-734-7074 Ext. 5. Visit: www.pikcard.com
---
Web Page design is copyright © 2007 by Barry Rudolph