Recording The Beatles From Curvebender Publishing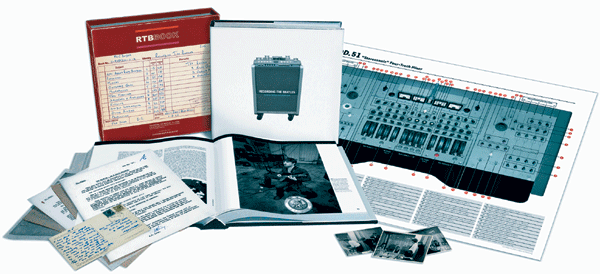 I had to clear off my writing desk to allow space for the over eleven-inch square, two-inch thick, 537-page Recording The Beatles tome written by Brian Kehew and Kevin Ryan. This archival masterpiece is the result of over ten years of excoriating research and dogged determination in the pursuit of the exact circumstances and studio methodology by which all the Beatle records came into being. As a recording engineer, I found this book to be a 'time machine'; it's a fascinating journey back to simpler and technologically primitive times where I could become a 'fly on the wall' during a Beatles session at the original sonic temple, Abbey Road studios in London, England. RTB works on many levels. Firstly, it is the ultimate reference that tells what equipment (microphones, tape machines, speakers, amplifiers, mixers outboard gear), musical instruments (the studio's and the Beatles'), personnel, production techniques (effects, studio setups, editing) and more that went into each and every Beatle recording.
Secondly RTB tells the story of the intense work ethic of the greatest Pop band that, despite the seemingly sterile and certainly colorless studio atmosphere at that time, managed to create their timeless music.
The book's Section 1 covers the history and personnel of Abbey Road with bios of all the Beatle's various engineers and tape operators. Section II covers the studio's equipment--mics, mixers, tape recorders and outboard. Section III schematically shows how to achieve the many original special effects the Beatles first used. Section IV, called Production, is probably the most interesting because it is a year-by-year history of the band's studio work starting with George Martin's reasons for signing them back in 1962. As George Harrison remarked: "We recorded the first Beatle album in one day; the second one took even longer." This section has drawings of the where each of the Beatles stood or sat, the position of their amps, sound screens, microphone placement and so much more.
With never-before-seen pictures of the Fab Four and other studio clients taken by Abbey Road staff and friends, an unprecedented level of technical detail of every mic, musical instrument and arcane recording studio device used, plus a devotion to accurately and fully document the (relatively) short time span the Beatles spent in the studio, Recording The Beatles is the ultimate in Beatle histories and a work of love by its authors. It sells for $100 and comes an assortment of many reproduced personal mementos of those times. From Curvebender Publishing at: www.curvebender.com




Recording The Beatles
---
Web Page design is copyright © 2007 by Barry Rudolph