Sabian Paragon Diamondback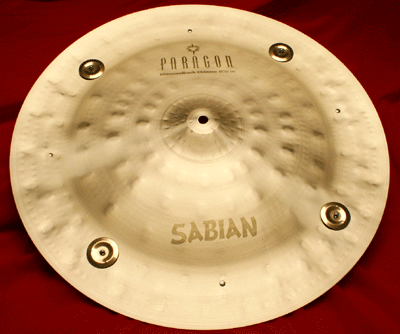 The 20-inch Paragon Diamondback Chinese is the latest collaboration between Rush drummer Neil Peart and Sabian. It's called Diamondback because of the shape of the Paragon diamond logo but mainly because it rattles. This is an unusual-looking thin, sizzle cymbal with a wide-flanged rim and four tambourine jingles held by cotter pins. Additionally, there are four more rivets in between the jingles. Although sizzle cymbals are seldom heard on Pop records, drummers will like the unique sound of Diamondback and see it as a whole new percussion avenue to explore.
As with all Paragon models, the Diamondback combines various lathing styles and a hand hammered bell. Jumbo-sized HHX dimpling is applied specifically to the bow and lip after the lathing process to lower the fundamental pitch of the cymbal giving it a darker tone. The Diamondback Chinese is handcrafted from premium Sabian B20 'cast' bronze and features the gold logo markings exclusive to the Paragon series. The jingles are made from brighter sounding B8 bronze that increases the complexity of sound produced.
All Paragon cymbals are quality protected by the Sabian one-year warranty. For more information, visit www.sabian.com/.
---
Web Page design is copyright © 2007 by Barry Rudolph