Sabian Xs20 Cymbals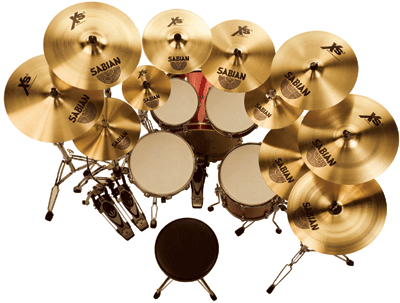 The Xs20 cymbal line is Sabian's mid-priced B20 cast bronze series that now has a new look--there are hand-cut lathed tonal grooves cut into the cymbal's surface. Originally introduced after a 10-year R&D program in search of a way to create quality B20 cymbals at a mid price point, this extra hand-made step adds real value to an already great cymbal.
Crafted exclusively in Natural Finish, Xs20 cymbals are available individually and also in sonically matched sets. Xs20 cymbals contain 20% tin--considered the maximum for the best durability and musicality. Sabian's secret process, used to combine 20% tin with 80% silver-bearing copper, produces no better metal. All B20 cast bronze cymbals are quality-protected by Sabian's one-year warranty--a great deal considering these products are hit on all night long!
For further information about Sabian, visit www.SABIAN.com.
---
Web Page design is copyright © 2007 by Barry Rudolph