Cakewalk Sonar Home Studio 6 XL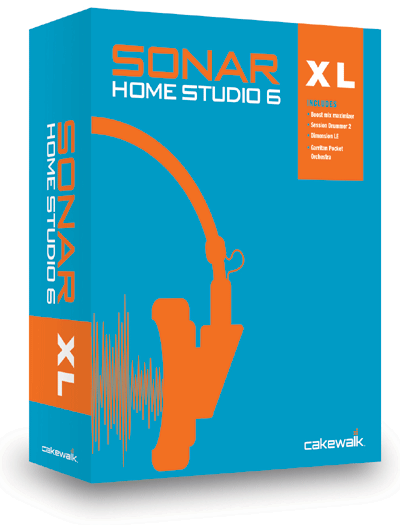 I find it very special when a company utilizes many of the core features of its flagship product (Sonar 6.2 in this case) in their more budget product lines. Specifically aimed at home studio owners, both Sonar Home Studio 6 and XL are compatible with Windows® Vista™ (hey another excuse to buy a new PC!) and have quick start guides with track presets, project templates and video tutorials all ready to go.
Active Controller Technology (ACT) is used to control and automate effects, instruments, and do your own mix using any MIDI controller(s). Your MIDI controllers are automatically remapped to whatever control has screen focus. Speaking of mixing, the new interface is easier to use and allows customization of screen views, colors, and toolbars. The mixing console has a Sonitus:fx parametric EQ on each track and access to ten professional audio effects.
Pro features like MIDI Input Quantize that corrects the timing of MIDI performances in real-time as you play and Native and fully integrated support for VST plug-ins (no wrapper required) are included. Another up market feature is called Freeze where tracks, effects and virtual instruments are 'frozen' as is--to free up CPU resources. Sonar Home Studio comes with the DropZone sampler and an extended library of instrument sounds including a Drum Pack and Bass Pack. Are you proud of your music? Cakewalk Publisher lets you present and stream it on the Internet or burn to CD directly within Sonar Home Studio.
Sonar Home Studio XL adds a selection of over one gigabyte of instrument sounds, Boost 11 peak limiter, Session Drummer 2 drum instrument, Dimension LE wavetable synth with over 400 sound programs and the Garritan Pocket Orchestra.
Sonar Home Studio 6 sells for $139 MSRP while Sonar Home Studio 6 XL is $209. Registered SONAR Home Studio 4 customers can upgrade to Sonar Home Studio 6 directly through Cakewalk for $59. Visit www.cakewalk.com
---
Web Page design is copyright © 2007 by Barry Rudolph