Sonnox Oxford R3 Equalizer Plug-In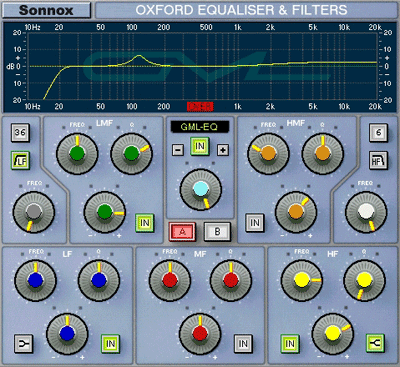 Sonnox is the new name for the Sony Oxford Plug-ins company. The plug-ins, which remain the same, include all the established favorites: Oxford R3 EQ, Dynamics, Limiter, Inflator, Reverb and the Transient Modulator. Previously only for Pro Tools and TC Electronic's Powercore platforms, all of these plugs are now available in Native versions for both AU (Audio Units) and VST (Virtual Studio Technology) hosts such as Apple's Logic, Digital Performer, Cubase, Nuendo and Pro Tools LE.
The Oxford R3 is based on the equalizer in the famed, professional Sony OXF-R3 digital console. It is a five-band EQ with selectable shelving on the low and high frequency sections and separate, variable slope low and high pass filters. Most interesting and useful are the four different EQ types offered including a fifth but optional George Massenburg Labs GML8200 emulation type for TDM versions only. The four EQ types cover all the circuit characteristics of the various popular hardware equalizer designs recording engineers and mixers have used to make records for last forty years.
I've been using the R3 lately in my Pro Tools rig on an album mix project and there has been no task that it was not perfect for. I like the Type 1 EQ for most instruments and vocals when I want to 'hype' the sound--really hear the EQ carving up the sound. Type 2, while identical to Type 1 in boost mode, is perfect for surgical removal of peaky frequencies in cut mode because the Q (or Quality of the equalizer--the width or number of frequencies affected by EQ) is constant only in cut. The Type 3 EQ is very much like the old Neve or SSL G equalizers and is great for general use--it may have the fattest sound of the lot! Type 4 is the softest, most subtle type and I found it perfect for mastering applications where I wanted just an overall brighter sound.
The Oxford R3 Equalizer for Pro Tools HD TDM is $891; TDM with GML Option is $1,215; the Native version is $360, and the Powercore-specific model is $630. There are discounts of up to 40% are available with custom bundle packages via www.sonnoxplugins.com/bundles.
---
Web Page design is copyright © 2007 by Barry Rudolph