Stage Ninja Retractable Cables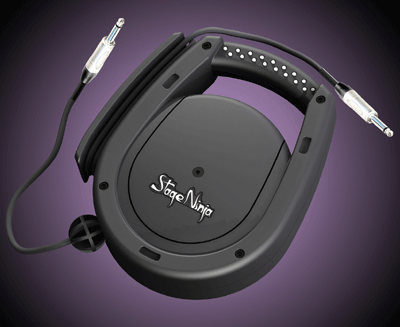 No-No grasshopper, Stage Ninja is not a mystical stage fighter but the name of a company now making a line of smartly designed retractable musical instrument and XLR cable devices and other useful accessories. Their line includes products designed to simplify and organize a musician's performance area. A couple of them feature the industry's first automatic cord-winding mechanism that instantly pays out cable to any desired length and then retracts it into a roadie-proof protective housing. Stage Ninja cables work very simply: pull out whatever length cable you need, pull the cable again and it retracts. This is nirvana for stage and studio neat freaks that hate the site of excess cable spaghetti all over the floor.
The Model INS-26S is the ultimate guitar cable--pull out only enough to get to your amp and if you need more, pull out more. The XLR-26S is designed for DJ's and sound techs. Instead of 1/4-inch plugs, it has XLR connectors at each end. Both of these cable systems use Redundant Signal Transmission (RST), a technology developed by Stage Ninja to provide stability to the signal and ensure the highest quality sound.
For stage and studio AC power Stage Ninja has the MXC-25. Although not an automatic retractable system, it has been called the musician's power extension cord. The ultimate for backline stage and studio setups, the MXC-25 is 25 feet of 12-gauge electrical cord with a tap to plug-in every five feet and a built-in circuit breaker. Sweet but need more? Go for the MXC-50--it's the 50-foot version.
The new Stage Ninja line will be available in stores in the spring of 2007. For more information and product specifications, visit www.stageninja.net or call 866-889-5782.
---
Web Page design is copyright © 2007 by Barry Rudolph