Studio Suite 8 Studio Management Software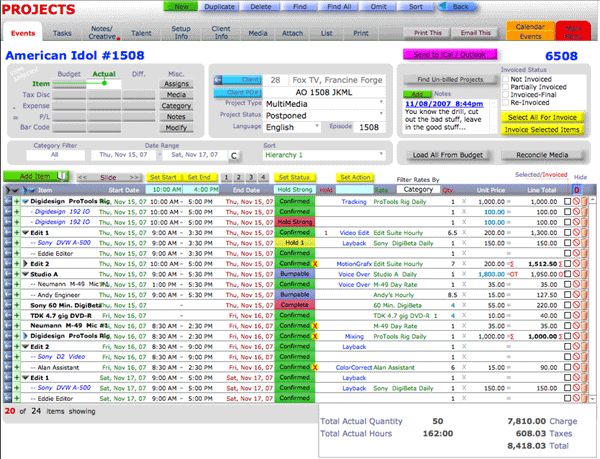 If you own and run a home studio or a big-time audio/video production house, you must use a computer to keep track of all the day-to-day needs and business details of these complicated high tech enterprises. As far back at 1998, Altermedia's Studio Suite has been the THE software to use and now version 8 includes even more features that streamline and make efficient the business of running any media production facility.
Studio Suite 8 uses interconnected modules--changes made in one module are updated and synchronized in others. For example, viewing a client's record in the Contacts module, you can see, and go to: every past logged phone call or email to them, every project or session they've done, all their digital or physical media assets, their particular studio rate along with every invoice.
Modules include: Contacts, Calendar, Rooms, Equipment, Maintenance, Barcodes, Library, Titles, Rates, Invoicing, Communications, Media Inventory, and more. Of course all this information can be printed out in customized forms for submission to record labels etc.
Studio Suite 8 is designed for computer networks and is platform "agnostic"--meaning in addition to running identically on a PC or MAC, it'll run on a network comprised of both PCs and MACs--it doesn't care. Studio Suite 8 features a comprehensive security hierarchy that allows tiered access with twelve different Privilege Sets and over 140 different individual permissions for allowing or denying users any number of different levels of access to the system.
Lastly, Studio Suite communicates directly to QuickBooks via an optional plug-in (PC only for now), so there's no need for double entries doing accounting tasks. Studio Suite 8 sells for $499 for a single user and is available at: www.studiosuite.com/
---
Web Page design is copyright © 2007 by Barry Rudolph