Tech 21 Boost D.L.A. and R.V.B.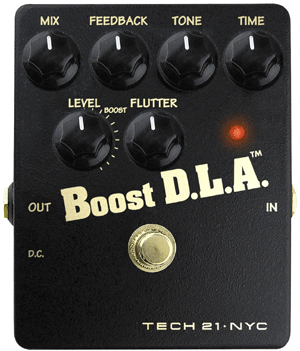 Guitar tone and vibe experts Tech 21 have added two new effects pedals to their familiar, rugged stomp box family. The D.L.A. (pictured) and R.V.B. are analog delay and reverb emulators. Both feature up to 9dB of clean boost for making the effect standout when you select it.
Boost D.L.A. has a single continuously variable Time control for up 1,000Ms (or 1 second) of delay time--you will time the delay easily to your song's tempo with this single control. Both pedals have a Wet/Dry Mix control plus a Tone control to roll off any scratchy high frequencies. D.L.A. also has a Flutter control that adds a slight chorus modulation to the delay to imitate the sound of old analog tape based units (Echoplex) or one of those quirky, electrostatic (oil) drum delay contraptions. The sound of Boost R.V.B. fits right in with first generation digital units, analog and charge-coupled 'bucket brigade' reverbs. Reverb styles such as spring, plates and natural ambiences are all covered here and the Rumble control removes any amount of low frequency noise from the reverb.
Both pedals have a super high impedance (1 megohm) input and low impedance output (1kOhm), custom silent-switching actuator, and all metal construction. They run on a nine-volt or Tech 21's Model #DC2 power supply. The Boost D.L.A. and Boost R.V.B both sell for $195MSRP. For much more about them, check at: www.tech21nyc.com
---
Web Page design is copyright © 2007 by Barry Rudolph