Tesla Active Pickups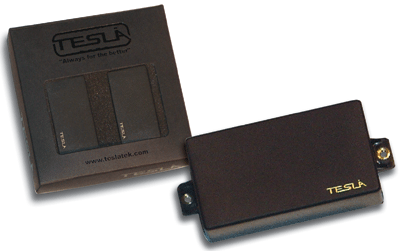 The new active AH-1 humbucker guitar pickups from Tesla come as a set; you get calibrated pickups for both the bridge and neck positions. "Kit" might be an understatement since you get volume and tone pots, battery clip, capacitors, output jack, and all springs and screw hardware. This is everything you need to convert your guitar from tired and old passive to hot-sounding, active pickups.
You'll notice an immediate difference in playing sensitivity along with shimmering clean sounds and the crunchiest of all crunch when overdriven. This comes with the benefit of noiseless operation and an overall warmer and natural tone.
The Tesla AH-1 Active humbucker set sells for $165 MSRP and JT Musical makes whole lines of Tesla pickups including the Corona, Vintage Reflection and Plasma series. There is much more information and ordering details at www.jtmusical.com.
---
Web Page design is copyright © 2007 by Barry Rudolph