Toca Pro Line Timbales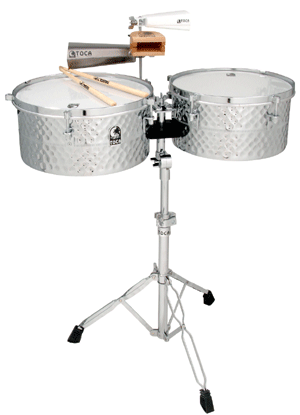 The new 14 and 15-inch steel timbales in Toca's Pro Line have hand-hammered sides. This beautiful touch is said to both spread out and increase the number of overtones yet focus the drum's sound. The dimples harden the steel, giving extra authority to center-of-head tones while adding complexity to rim shots.
In any event, any timbalero will love the look and immediately hear the crisp overtones when playing 'cascara'--on the sides of these drums. Any player will also appreciate the five lugs per shell for easier tuning and know the heads will stay in tune longer.
Standard features include: fully adjustable cowbell mounting bracket, heavy-duty adjustable tripod stand, and your choice of either Black Copper or Stainless Steel finishes.
The Toca Pro Line Timbales in Stainless Steel finish sells for $525 while the Black Copper finish is $540. Toca Percussion is part of Kaman Music Corp and much more information is at: www.tocapercussion.com
---
Web Page design is copyright © 2007 by Barry Rudolph