URS Classic Console Strip Pro

Read Barry's Mix Magazine Feature Article On Compression and Compressors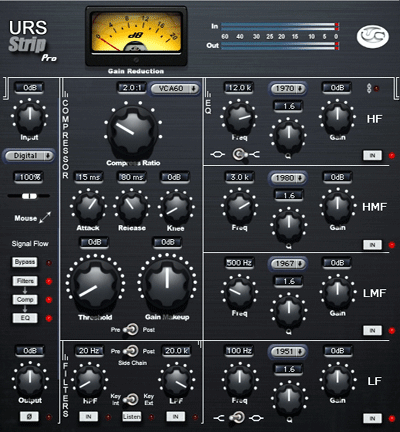 Unique Recording Software or URS has the ultimate in channel strip plug-ins with Classic Console Pro. Available in AudioSuite, RTAS and TDM for MAC only (PC support by the time you read this!), Classic Console Pro runs in sessions up to 192kHz with near zero latency and full, 48-bit double-precision processing.
Classic Console Strip Pro breaks a channel strip's signal chain down to its individual parts each with collections of carefully-coded algorithms that recreate the: input stage, compressor, equalizer, and side-chain sections.
The input stage section has 30 algorithms including: console input stage/summing buss, class A transformer, tube and analog tape head bumps (15ips 2", 30ips 2" and 30ips half-inch) to color the signal before adding any EQ or compression. Next are 60 compressor starting points that can match the sound and characteristics of diode bridge, VCA, FET, opto, tube and tape compression. The compressor models are based on prized compressors/limiters with 14 console models and 46 outboard units recreated.
The four-band equalizer section has five selectable EQ algorithms for each band. There are five analog recording console EQs with names and sounds any engineer will understand immediately. You get: a 1967 American four-band, the 1970 Class A British three-band, also a 1972 Class AB British four-band, plus a 1980 British four-band and a 1951 vintage program EQ.
The Classic Console Strip Pro filters can be assigned either pre/post the compressor or in the compressor's side-chain. The Filters completely overlap to dial in problem frequencies accurately and effectively.
I've been using CCS Pro in my Pro Tools mixes for about two months now and there is nothing it cannot do. I find the ability to 'mix and match' input stages, EQ and compressors from across the decades to work beautifully. Sculpting sound has never had better tools because both the desired and best (or worst) traits of any desired processor are used in a more exacting way to produce sound qualities I want. There is no sonic compromise--I can be very picky about each section's exact contribution to the overall sound.
The Classic Console Strip Pro TDM version lists for $1499.99 and Native RTAS version lists for $749.99. Demo available--iLok required. Visit: www.ursplugins.com.
---
Web Page design is copyright © 2007 by Barry Rudolph