V2GO REC-II USB Digital Recorder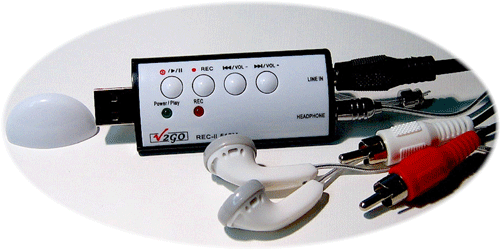 Karaoke retailer The Singing Store has the V2GO REC-II a small USB 512Mb flash drive and MP3 digital recorder/player. This $99 MSRP unit weighs less than three ounces and is perfect for recording and storing live recordings made at your gig, office, or karaoke bar.
All you need is the stereo mixer output connected to it and you're in business. All the necessary RCA-to-RCA and mini jacks to RCA cables are provided--there was even a special cable that allowed me to connect my iPod to it directly. The MP3 files created are at 44.1kHz/16 bit streamed at a 196 kBps rate.
Since REC-II is also a USB drive it shows up (when connected) on your computer's desktop as a hard drive. Simply drag MP3, WMA, .WAV or ASF files on to it and your ready to disconnect and hit the road with music for that jog or bus ride. V2Go can record up to 500 minutes and recordings can be deleted as you go.
Controls include: file advance/back, volume control, record, and a power on/off/play/pause button. Besides all the audio cables needed, you also get earphones, battery, carrying case and a lanyard. For more information, contact The Singing Store at 800-698-SING or visit www.singing.com
---
Web Page design is copyright © 2007 by Barry Rudolph