VOX AC15 50th Year Commemoration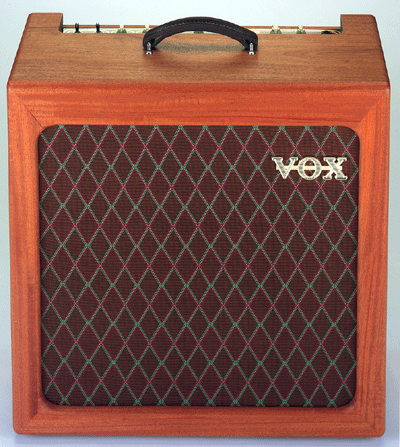 At the recent Winter NAMM Show to commemorate the 50th Anniversary of VOX Amplification (1957-2007), the company launched its new Heritage Collection of handwired amplifiers. The first two models, the AC15H1TV and the extremely limited edition AC15H1TVL (pictured--only 200 of these will be built), pay tribute to the AC15--the first commercially successful amp made under the VOX name.
These combo amplifiers have an EF86 pentode tube circuit (circa 1960) in the Ch-1 preamp channel combined with the 1963 Top Boost in Ch-2. The two traditionally wired inputs have a 6 dB difference in gain between them. The EF86 Channel's original Brilliance switch has been modified to three positions instead of two; a Bass Shift switch has been added (to help preserve tightness while playing loud); and a switch that toggles between pentode and triode modes. The same pentode/triode switching is used again in the output stage for either 7.5-watts or the mightier, full 15-watts. The tube line up is 1 x EF86, 3 x ECC83/12AX7, 2 x EL84 and 1 x EZ81 (rectifier). Both AC15 models come with a Celestion Alnico Blue 12-inch speaker and classic "chicken head" style pointer knobs.
At the press conference the AC15 amp demonstrated a natural overdrive with creamy distortion and many different tones only possible with a VOX amp. The amps have an "old time," '50's TV Front style cabinet with a pre-1960 logo placement. The AC15H1TV has a vintage inspired cream vinyl covering while the AC151TVL goes with an oiled hardwood cabinet. (nice looking--like fine furniture)
The handwired VOX Heritage Collection limited edition AC15H1TVL amplifier and AC15H1TV are available June 2007. Prices TBA. Much More at: www.voxamps.co.uk/heritagecollection/
---
Web Page design is copyright © 2007 by Barry Rudolph