EMI TG Mastering Pack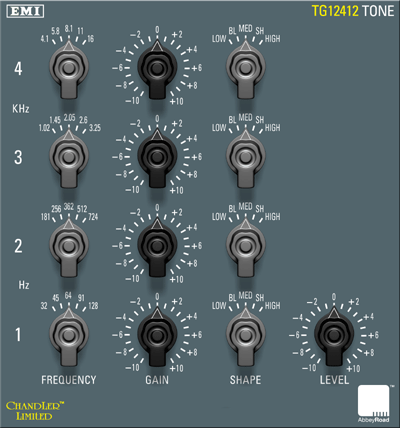 The famed studios of the Beatles, London's Abbey Road Studios and U.S.-based Chandler Limited have another processor for the EMI plug-in series: the TG Mastering Pack. The TG12412 and TG12414 EQ plug-ins are for Pro Tools users (AU and VST versions coming soon) and are modeled after the Tone Control and Presence/Filter modules from EMI's '70's TG12410 mastering console--such a fine instrument that they remain the centerpiece of the studios' mastering and transfer rooms--in use today.
I installed both plug-ins in my Pro Tools HD 3 Accel rig and immediately put them to work as stereo equalizers. The TG12414 Presence Filter worked great for "constraining" the total bandwidth of backing vocal stem--losing some of the extreme top and bottom frequencies my mix did not need. The TG12412 works great as an all around equalizer for whole mixes, string pads and stereo keyboards.
Like buying a piece of music history, the TG Mastering Pack is available in TDM and RTAS versions for Mac and PC. It is priced at $560 (TDM) or $335 (LE). Check out: www.abbeyroadplugins.com.
---
Web Page design is copyright © 2008 by Barry Rudolph