Amp Gremlin Amplifier Covers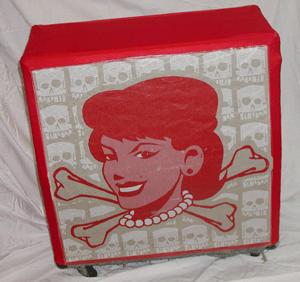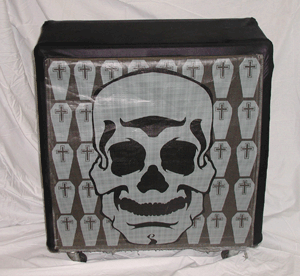 Amp Gremlins solve a common problem in an attractive way: they cover old, dodgy-looking guitar or bass amps. So even though that old Marshall stack sounds great, from years of road gigs, countless heaves and drags across stages, it's seen better days in the looks department.
Amp Gremlin covers take only seconds to install and remove, and they serve double-duty for showing band logos, sponsorships, advertising, or as part of your stage's overall look and design. You can place any image, logo or slogan on the grill of an amp, bass cabinet, or PA speaker quickly and then just as easily, remove it later. This is a good plan when using rented gear or if other bands use your band members' amps too. They are made of a unique mesh material that is transparent to sound coming from the amp's speakers and so does not significantly change sound quality. The stretch fabric used by Amp Gremlin allows for an easy grip on the amp's handles and, where appropriate, a cut out section for access to input and outputs connections is made available.
Amp Gremlin comes in hundreds of fabric colors and patterns. It costs $130 for one cover or $320 for three covers. Pricing is based on a standard size, a Marshall 4X12 cabinet. A full stack cover is available at $190. PA speakers, bass cabinets, and other odd sizes are priced at $18 per square foot based on the size of the cabinet face. You can place an order by going to www.ampgremlin.com
---
Web Page design is copyright © 2008 by Barry Rudolph