Apogee Duet Interface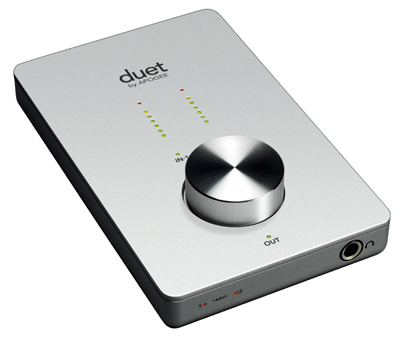 Duet is an elegant two-channel audio interface for the MAC that allows direct access to the computer's Core Audio system using the Firewire 400 port. The portable Duet works with audio programs like Apple's Logic Pro, iTunes, GarageBand, and SoundTrack Pro at a full 24-bit depth and sample rates up to 96kHz. Elegant? Duet is incredibly elegant in its industrial design and look, simple operation, intuitive setup and great sound that Apogee Digital products are known for.
Duet is just slightly larger than an Apple iPhone and would reside next to your QWERTY keyboard and mouse. The flat, futuristic-looking aluminum case is dominated by a large aluminum rotary encoder and a recessed stereo LED meter. All necessary cables and software for immediate use are included in Duet's $495 MSRP.
After installing and registering the Duet's Maestro software, I was ready to record a song into GarageBand. For direct control within GarageBand there is the Duet Control Panel and for Logic users the Apogee Control Panel both exclusive to Apogee.
A supplied fan-out cable connects to the rear panel of the unit using a DB15 connector and provides: two balanced XLR mic inputs with switchable +48-volt phantom power; two high impedance inputs for recording direct guitars or keyboards; and two -10dBv line level outputs to drive my Adam A7 powered monitor speakers. The front facing headphone jack has plenty of volume--enough to blast my 55-ohm pro AKG K271 headphones off my head.
You configure Duet for your session using Maestro. Things like mic or line input, +48volt on/off, phase, input levels, microphone mixing, and more are all set here. I liked that the single large encoder wheel controls both record levels and playback volume and can be programmed to control MIDI data within Logic. Using Duet could not be simpler and the sound is superb! I immediately notice the sound quality difference when testing the unit by listening to iTunes!
Whether you are looking for a portable interface for your Mac Pro laptop or for your project studio rig, Duet will surprise you with its easy-to-use design, small size and most of, fantastic sound. For more information, visit www.apogeedigital.com.
---
Web Page design is copyright © 2008 by Barry Rudolph