Avastor HDX-1500 Quad Hard Drive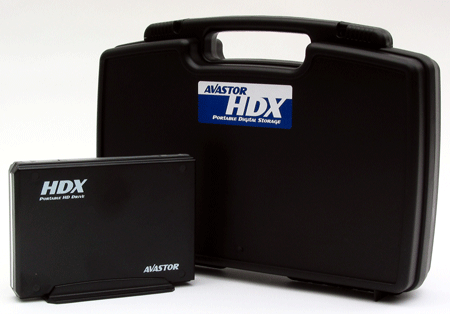 Avastor's new HDX-1500 line of hard drives make connection to any computer even easier and more universal by supporting four different interface standards at the same time. You can connect the drive using any of the Firewire 400 (with included cables) Firewire 800, USB 2.0 and the new eSATAII (External SATA) standard jacks.
The new Quads come is sizes from 80GB up to 1TB (1,000GB) and have the latest Oxford 924 chipsets. They are 100% speed tested and capable of a 90MB/sec transfer speed. I like the drive's low profile form factor and super quiet operation. Plus they have no dangling, "wall-wart" power supply. The auto-voltage sensing (meaning it operates any where in the world from 90 to 230volt AC mains) power supply is built-in along with a cooling fan. Exactly what one would expect from a piece of pro gear.
I received a 500GB drive from Avastor and it went to work in my Pro Tools system as my main work drive. I immediately copied a session with 115 tracks of audio and it didn't even blink or groan all day long as I punished it with a grueling editing session. It comes in a lockable LockBox™ with a complete set of interface cables and power cord. Prices range from $240 for the 160GB to $745 for the 1TB model. For much more about these drives visit: www.avastor.com.
---
Web Page design is copyright © 2008 by Barry Rudolph