Big Orchestral Marching Band from FXpansion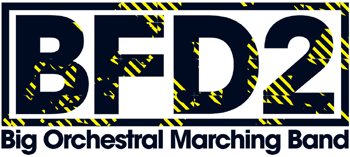 Big Orchestral Marching Band or B.O.M.B. is the latest expansion pack for BFD 1.5 and BFD2 virtual drummer programs. Who da thunk that the sounds I remember of my high school marching band would ever work so well in today's Rap/HipHop music? B.O.M.B. comes with 36GB of sounds--a large assortment of both orchestral and marching drum hits including four very tonal bass drums that are better than any TR-808 sound for low frequency importance.
There are seven, hard-hitting marching and orchestral snare drums, quad tom-tom racks, hand cymbals, a concert bass drums including a mammoth forty-inch, orchestral chimes (tubular bells), four tympani covering 1 and 1/2 octaves, plus loads of drum corps/marching band and hip-hop street grooves.
I found for playing percussive fills in dense arrangements the Zildjian Hand Cymbals added a special sound that cuts through without being loud. I also like the Yamaha Marching Snare for its high pitch and super short, tight "pop". The Ludwig Concert 40-inch bass drum hit with a hard mallet is huge sounding and excellent for replacing 808 kicks because you can hear the mallet hitting the skin.
An excellent upgrade to your BFD collection, B.O.M.B sells for $199. Go to: www.fxpansion.com/index.php?page=57&tab=167 for more.
---
Web Page design is copyright © 2008 by Barry Rudolph