BIAS Master Perfection Suite 1.2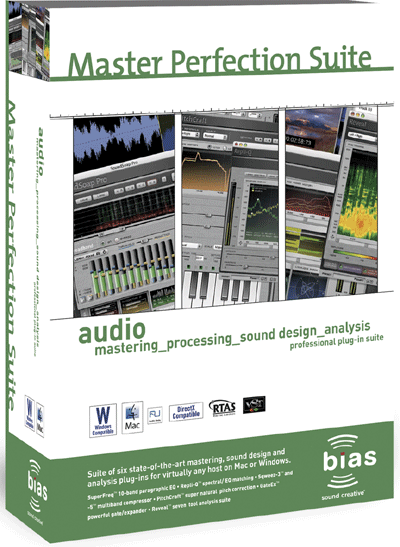 Master Perfection Suite is a collection of six mastering, processing, sound design and analysis plug-ins initially only useable within BIAS Peak Pro XT 5 stereo editing and mastering program for MAC computers. After adding support for third-party AU and VST hosts on the Mac and Universal compatibility with PPC and Intel-based Mac, BIAS recoded these wonderful processors to run as plug-ins in any VST or RTAS host in either MACs (including Leopard 10.5) or Windows (XP & Vista). Master Perfection Suite is aimed at musicians, recording and mastering engineers, A/V editors, sound designers and other audio professionals who use programs like: Audition, Cubase, Digital Performer, Live, Logic, Peak, Pro Tools, Sonar, Sound Forge, Wavelab, and more.
Processors include: Repli-Q (spectral matching), PitchCraft (pitch correction/manipulation), Reveal (analysis), Sqweez-3 & -5 (multi-band dynamic processing), SuperFreq (paragraphic EQ), and GateEx (gate/expander).
As a user of BIAS' Peak Pro XT 5, I was already familiar with these plugs and longed for them to work within in Pro Tools. It's pretty exciting (for me) to use Repli-Q on a vocal track when I'm just not sure what's wrong with it. Repli-Q is visual--showing me the spectral make up of a sound--it's great for undoing poorly equalized recordings or for matching an EQ to another vocal track.
Sqweez-3 (3 band) and Sqweez-5 (5 band) multi-band compressors are great on synth pads and complex orchestral sounds. You can clamp viciously without distortion. PitchCraft is a real-time pitch correction/transposition plug-in that fixes out-of-tune vocals easily and with minimal artifacts thanks to a powerful new pitch-shifting algorithm. It's simpler to use then other tuners and sounds great. For EQ, try the mastering-quality 4, 6, 8 & 10-band SuperFreq parametric graphic equalizers with -18dB to +18dB Gain Values; 0.1 to 30 Q; sweepable frequencies from 20Hz to 20kHz, and Peak, Notch, High Shelf, Low Shelf, High Cut, and Low Cut filter shapes. Lastly, GateEx is one of the best plug-in gates I've used in Pro Tools and Reveal is one of the better signal analysis tools you can get. All six of these plugs are tops!
The Master Perfection Suite is $599MSRP with individual plug-ins available separately.
Visit www.bias-inc.com
---
Web Page design is copyright © 2008 by Barry Rudolph