Bias Peak Pro 6 XT

Read Barry's Mix Magazine Feature Article On Compression and Compressors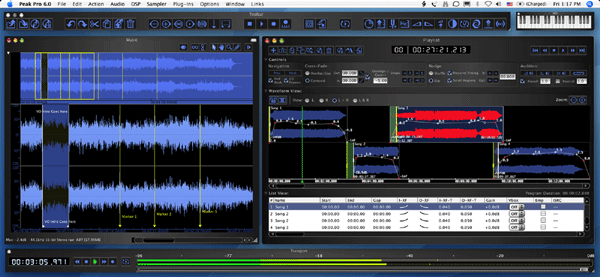 Peak Pro 6 XT is a major upgrade to version 5--an awfully difficult task--to improve on Peak's amazing abilities as stereo audio editor, processor, and mastering/delivery software for Mac OS X.
Some of the new highlights are: enhanced playlist functionality with more cross-fade options and volume enveloping where specific chunks of the audio can be gain changed; new DSP sound design features such as a Perpetual Looper for creating seamless loops of sustained sounds, automatic voiceover ducking and auto sample rate conversion; faster editing where temp files are held in RAM, new delivery enhancements such as direct output to Podcasting and iTunes. There is much more than I can cover here but I sure like the new GUI look and improved toolbar, VU meters and buttons.
For readying audio for CD manufacturing, Web (RSS feeds), video, game consoles, Peak Pro 6 adds to version 5's CD-TEXT, PQ editing, ISRC codes, and DDP export option, with file Metadata authoring, sample level zooming and editing, overlap/gap or centered cross-fades for either mastering or "classical"/take style workflows.
Sound designers will love Convolve Envelope for controlling the amount of convolution being applied over time and Vbox Link for mixing audio and effects between virtual instruments and live input. Change Duration is now optimized for adjusting audio speed/length while retaining pitch.
Peak Pro XT 6 includes Peak Pro 6, SoundSoap & SoundSoap Pro, Master Perfection Suite plus DDP 2.0 Export and sells for $1,199 MSRP. For upgrade and cross-grade information, please visit www.bias-inc.com
---
Web Page design is copyright © 2008 by Barry Rudolph