Blue Microphone Icicle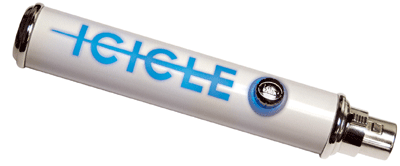 The Icicle is a USB microphone interface that can be used with any computer and with any microphone--even condensers that require 48-volt phantom power. About the size and shape of an expensive cigar tube, Icicle starts with a low noise, studio quality pre-amplifier with gain control. It's a fully balanced analog design and feeds a 'plug n' play' 44.1kHz/16-bit CD-quality analog to digital converter.
Icicle lets you plug any mic into its XLR connector and I found it very convenient for connecting a long cable from my mic on a boom stand that swings in and out from in front of my computer screen. I use the mic and Icicle combo to make Skype calls or for iChat sessions. There is plenty of adjustable gain available--important when using very sensitive condenser mics or recording very loud sound sources.
Icicle's white case glows with the name "Icicle" lighting in blue. It's PC or MAC ready and requires no power supply and no driver or any other software. Its hassle-free hook up is a no brainer for podcasting, voiceovers or live chatting. It sells for $59.95 MSRP and comes with a matching white six-foot USB cable. For more information, check Blue Microphones at: www.bluemic.com.
---
Web Page design is copyright © 2008 by Barry Rudolph