Morgan Hill's Boulder Creek ECR1-B Solitaire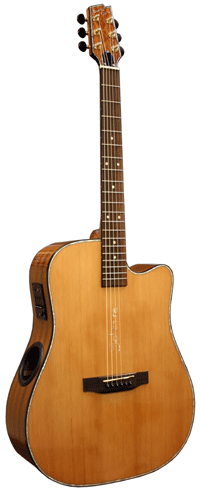 With all acoustic guitars, the top plate of the instrument is where the majority of sound vibrations develop and project. The 'holy grail' of luthiers has always been to keep this plate as free as possible to vibrate loudly by not burdening it with heavy internal bracing required for the instrument's overall strength. A look inside reveals the Shellhammer Suspended Bracing System (SBS) supplanting the traditional X-bracing. The SBS system uses aluminum bars that connect the soundboard's front and back edges for strength and also support the bridge to avoid collapse. Since these bars are only connected to the top in these three places, the top flexes and vibrates more freely.
At first look the Solitaire is striking because there is no soundhole in the middle of top. It is located on the side of the upper bout. Ideal for live playing--you'll always hear yourself--the soundhole in this position aims the tone from the body of the guitar directly to you.
Boulder Creek guitars use all solid cedar or spruce tops and the backs are made from solid rosewood or mahogany. The Solitaire comes equipped with an AB4-1 onboard pre-amp system with a four-band EQ and both balanced XLR and unbalanced 1/4-inch output jacks. The incredible handy onboard tuner mutes the pre-amps' output while you tune.
I checked out the Solitaire with guitarist/producer Oliver Leiber at my studio and he found the Solitaire to be big and full sounding--"I like the nice and even top, mid and bottom end sound. I also found the fit and finish excellent--this guitar would be perfect for Bluegrass music with its big and loud sound", he said.
The Solitaire sells for $999MSRP and for more information, contact Morgan Hill Music at 408-779-3845 or www.bouldercreekguitars.com.
---
Web Page design is copyright © 2008 by Barry Rudolph