Cardo Systems S-2™ Bluetooth Stereo Headphones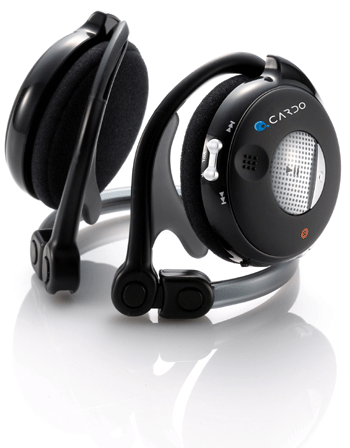 If we are to be truly "wired", why not have both our cell phone and MP3 player use the same set of headphones? The Cardo S-2™ Bluetooth stereo headphones allow you to enjoy music and simultaneous access to your Bluetooth-enabled mobile phone.
You'll have hands-free, voice-controlled operation of your phone (while driving, the law now in more and more states) and convenient use of a Bluetooth MP3 player using these comfortable, lightweight and easily adjustable headphones. Incoming calls override streaming music, so users never miss a call. Switching between the cell phone and a music player happens at the push of a button.
Cell phone calls and the music player are controlled via dedicated buttons on the headphones for pause, track change, and volume. The S-2 headphones fold for storage and cover a wireless range of up to 33 ft from your phone. They charge up in three hours and support A2DP and AVRCP profiles. You get up to 8 hours of talk time and music time and up to 250 hours of standby time.
The Cardo S-2 Bluetooth stereo headphones at select wireless dealers and retailers $84.99 MSRP. For more information, visit: www.cardosystems.com.
---
Web Page design is copyright © 2008 by Barry Rudolph