BackBeat Books Classic Rock Drummers Lesson Book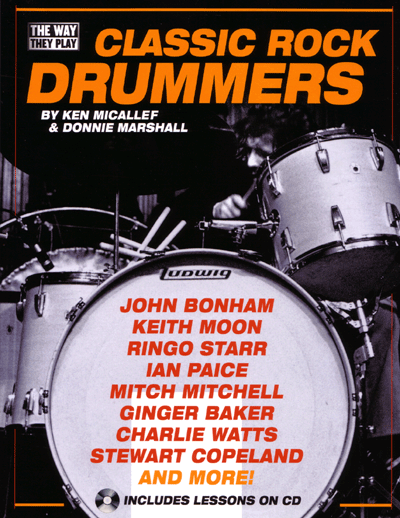 Classic Rock Drummers is an interesting drum lesson book that combines notated lessons with inside information about famous Rock drummers written by longtime Modern Drummer magazine contributor Ken Micallef. Drum recordings of the lessons, played by drummer Donnie Marshall, come on an included music CD.
John Bonham, Keith Moon, Ringo Starr, Ian Paice, Mitch Mitchell, Ginger Baker, Charlie Watts, Stewart Copeland, Richie Hayward, Levon Helm, and Jeff Porcaro are spotlighted in this easy to use book.
Each chapter takes a look at each of these drummers starting with a short bio and discography of their perspective band's records. I thought of these histories as inspiration for the next sections that cover the drum kits they used, peculiar setup details, additional effects (Bonham added a 36-inch Paiste symphonic gong to his kit), signature traits that identified their drumming, the drummer's influences and also their overall approach to music and playing the drums--their place in the various band(s) they played in. Finally, the real meat of the book, are the notated lessons showing the music that made these guys classic drummers.
Here the real work begins with tutorials designed to teach fundamentals of each drummer's style. There are up to seven, notated examples of their drumming modeled on their performance in their band's hit songs. This is the easiest method for learning the exact drum bits they played on their records--no more listening over and over to the original records trying to tease out every subtlety. I also think of these lessons as pathways to getting inside the "Mojo" of these drummers by way of the super analytical descriptions the authors use to characterize the feeling and purpose these classic drummers put into each performance.
Classic Rock Drummers sells for $19.95MSRP with included CD and is from BackBeat Books at 866-222-5232 or www.backbeatbooks.com




Classic Rock Drummers
---
Web Page design is copyright © 2008 by Barry Rudolph